davykestens Love the iBeacon. Sure there's a privacy issue, but the other side of the coin, which is extreme personalisation, will tip the scale.
This is a perfect story why designers/developers hate being who they have become under the pressure of the client. medium.com/the-year-of-th…
dekaminski Scary shit going down. RT @iamviktort I feared this day wld come. Gang wars on the rise in the streets of Stockholm. pic.twitter.com/4K6H9gTE0Q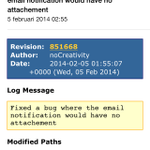 I was going to chill but then I realized there was yet another tiny bug out there. pic.twitter.com/uS1na1Otux
Well, it looks like my Dooodl update-script works. Official release tomorrow. That should fix a lot of problems. Time to relax a bit now.