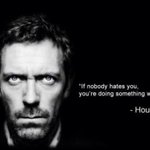 Word. RT @netlash: pic.twitter.com/2UdCNUcDXP
I'm not sure who it was but once I find the idiot who used !important on just about anything in this CSS file, I'm going to kill him/her/it.
bsuto The "http://" at the beginning of URLs is a command to the browser. It stands for "head to this place:" followed by two laser-gun noises.
I've been doing this for several years but it still weirds me out when I write code that seems like a long shot and then it just works.
That could totally be our cat. RT @GIFs: i.imgur.com/qJo11aw.gif
Recruitment agencies are ridiculous: "We need a developer with the these skills:Node, Ruby, building a rocket, time traveling, adapting DNA"