Yo mannen! Kijk! Der is nen livestream van de Grote Markt van Kortrijk. kortrijk.be/webcam *crickets*
lyntje Nog een sneak peek! Het zoekertje komt later online, maar contacteer mij of @noCreativity gerust..instagram.com/p/ruf-qDwxoU/Aw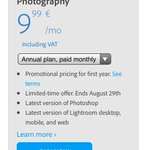 Adobe seems to have a nice offer for hobbyists: Photoshop and Lightroom for 9,99€. Nice! creative.adobe.com/plans pic.twitter.com/YmiyqE3k9H
Holy crap, that was one hell of a coding spree. Time to relax a bit before heading to bed… I so need to get a life.
I spent the past 2 hours building 2 buttons that open popovers with forms in them… The animations are so beautiful. I'm in love with this!
If I didn't know any better, @CaseyNeistat is obsoleting Twitter for breaking news by using Snapchat. Crazy.