prplps Yosemite's Safari uses bg color instead of cloth texture in the "over-scroll" at the top and bottom of websites. You _could_ style this!
I wish Square Enix would release Final Fantasy VII for iPad. I would totally love wasting my time with that.
nickvegas The only way to get better is to do more work. I have to take my own advice and start making more stuff.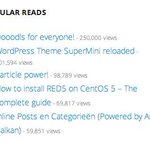 My blogpost about Dooodl, (my WordPress plugin) just hit 250k views! Install Dooodl too! wordpress.org/plugins/dooodl/ pic.twitter.com/mwYpvMVnHU
Timelapse and hyperlapse are not the same. And playing any video at faster than normal speed isn't timelapse/hyperlapse either. Thank you.
Waking up to a set of bugs that only exist because you tried to listen to somebody's advise. Quite great to know "you were right all along".