Then again, I would have been MASSIVELY surprised if they pulled off a self-sustaining business without ads or VC investments at all.
Just read that Ello took venture capital… For a company claiming to 'not sell your information', they're off to a poor start…
So who at Apple can I bill for the 2 hours I just lost cleaning up their mess? I'm serious: somebody give me an address.
I got up this morning and was in such a good mood. But then 'computers' happened and now it's all to hell.
To all of you suggesting Terminal commands: I don't care. What was wrong with the 'web sharing' option in the sharing tab!? Too easy!?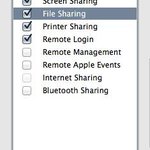 What the actual fuck, Apple. All of a sudden my Mac starts with built-in Apache running and no option to disable it?! pic.twitter.com/atbywtgjn4
Productive monday is productive.