We just booked 2 1st class TGV return tickets to Paris for 112€. Holy crap, what a bargain!
Big career decisions. It's been s while since I had to make those. I forgot how easy it is to completely go nuts over these things.
@MurtenSaerbi I'm not even gonna… *goes crying into a corner*
@Ultimedia I assume you refer to burger-icon-menu's?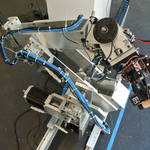 Jesus, Kris… You're freaking crazy! R@NeuroProdod: [Blog post] Made myself a 6-axis robot arbit.ly/1v9Nvycepic.twitter.com/P4kPfFZyhJhJ
@MurtenSaerbi Oh you poor, man. Wanna switch for my office in Harelbeke? Maybe you'll prefer it here? :p
Dear clients: I met your deadline. Please meet my invoice's due date as well… or I'll start ignoring your deadlines just as much.
It's a day full of frontend and WordPress work. I couldn't be more relaxed. Well, I could but for that I'd need to be in the south of Spain.
I love the @ideo Spark app. It's just a shame it's limited to 45 seconds and has no upload to YouTube. ;(