Was going to shrink a hi-res retina image down to 50%… Accidentally entered a 0 too much… Spinning beachballs galore.
Run this JS in your dev console ;) RT @lamazone: Array(16).join("lol" - 2) + " Batman!"; [HT @garybernhardt]
@katharinahaeb I don't do coffee. Coffee is for the weak! Cold showers however ;) And metal? I never thought of you as a metal-listener :-o
@katharinahaeb Actually not. I did however have a 'did I at any point sleep?'-night ;)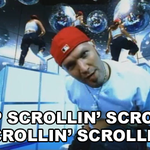 Working on a page where it says 'keep scrollin'… Now all I can think about is Limp Bizkitpic.twitter.com/lffsDlWViBiB
Whenever something I do in CSS doesn't work,I immediately start question myself.Then I figure out what was wrong and I think to myself:Idiot
Pretty inspiring story today in @CaseyNeistat's snapchat. Go check it out.