Nope, that's 10. I'm not gonna try to write that Tweet again. "Today is a day full of brilliant JS hacks". Let's just leave it at that.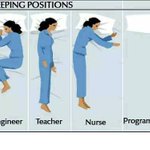 Deminoodle Sleeping Positions pic.twitter.com/EZ6d2x66bR
I have to add some features on a site that's (barely) running on WordPress 3.4.1….

Must resist the urge to upgrade to 4.0.1… RESIST!!