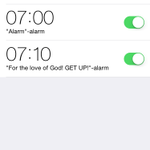 Setting up my "Thank God it's Monday"-reminder system. pic.twitter.com/Fg1V0pchP8
CaseyNeistat dear car dealerships, you're all morons for being closed on Sunday - the only day of the week your customers have time to shop
RT @JoshHelfferich: Alright iOS keyboard devs, I'm stepping in. We're deciding where the globe button is. Right now.
When did 'publishing lies' become okay when you call it satire?Countless sites are publishing made-up crap without clear disclaimer anywhere
RT @JoshHelfferich: Hey app devs: As a whole, you drastically overestimate how often I want to share things. Especially stupid things.
Right, so I'm using Windows on my Work laptop from now on (I have to). Any good Twitter clients for windows out there?