I think I just managed to set up a deploy pipeline with Heroku and codeship… Looks promising… Kind of…
About to release V2 of my render engine of my (highly secret) personal project. Been working on this for about 2 weeks. Fairly excited!
Mine just rebooted out of nowhere. After reboot no more keyboard to be found -> hard reset. It then booted with a different keyboard layout…
I say this a lot to people: A Mac is solid. Doesn't crash often. But once they crash, they crash hard and it takes a while to recover.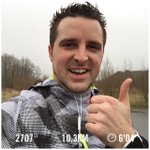 ABC: Always be closing. I just ran 10,3 km @ a 6'04"/km pace with Nike+. go.nike.com/08ghmo8e #nikeplus pic.twitter.com/wYt5l4Vs13