Almost forgot: If your footage is crap (bad lighting, bad camera work, etc), color correcting/grading is like polishing a turd.
I don't want to learn how to use tools. Tools are easy. I want to understand the science. Applying wizards and clic..twitter.com/i/web/status/1…7F
Oh internet…
"In this video, I'll show you how to color correct and grade your GoPro flat footage!"
** proceeds t..twitter.com/i/web/status/1…YO
In order to color correct, you first have to understand colors. That stuff is fucking difficult to dial in.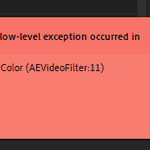 Looks like moving from OSX to Windows won't resolve this issue… Oh, Premiere… Someday… pic.twitter.com/mNlGx0UxgT
Starting today it's legal to fly sub250 drones in low risk areas in Europe. So we can now fly this little boy in mo..twitter.com/i/web/status/1…3V
People saying "2021 can't be worse than 2020, right" clearly don't understand how the universe works. Shit can alwa..twitter.com/i/web/status/1…Y4