Talk about coincidence: 5, 7 and 8 years ago today, I went to get my hair cut! Shockingly interesting! Tell your friends to follow me.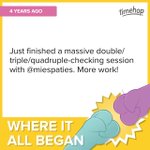 Can't believe it's been 4 years already since that day! /cc @miespaties #unstoppable #hpto timehop.com/c/1.dDoxMjA2OD… pic.twitter.com/rUtz926tcC
Walking up to a door where it says "pull" and I push. Because I'm a fearless bastard.