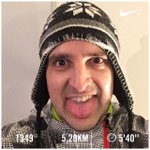 Relentless I just ran 5,20 km @ a 5'40"/km pace with Nike+. go.nike.com/3p7amj1 #nikeplus pic.twitter.com/iuHSBkYWLJ

What I cannot appreciate is the auto-correction… Hey Google, my name is spelled with a 'Y'pic.twitter.com/IAxlpPKIVnpPKIVn
cap Sometimes I honestly wonder if we're headed toward a large design reset: where the more amateur it looks, the more it's trusted.
@haraldbertels You are correct! A few of them are still out there but it seems like they're a dying breed :(
Designers seem to be so hopelessly & irresponsibly in love with minimalism that they have given up on beauty and color. Thanks for nothing.