Being a freelance consultant can be a very disappointing experience from time to time. But then you get in touch wi..twitter.com/i/web/status/1…3U
@js_tut Also, I consider myself to be a senior, and I'm not sure if I tick all the boxes on your junior list 😂
@js_tut Google/hack your way out of a problem. Knowing how to read docs & example code. Communicate effeciently. Discuss solution orientend.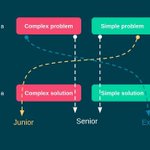 desloovere_j Junior versus Senior problem solving. #developers pic.twitter.com/xdZGOmB2wC
@debodetweets Toffe video! Kreeg er goesting van om ook een potje te gamen 😉 Keer elkaar afknallen online, binnenkort? Wa denkt ge? 😂
Je eigen zwaktes onder ogen zien, is altijd pijnlijker dan je verwacht.