"Hbd". That's what passes as birthday wishes on Facebook these days. Lazy asses.
Carwash time! It's really necessary. There's a bird shit on my car; so big it could actually be from a human. Or a horse.
@ahtanu Apparently NodeJS crashed on my server without restarting. Should be back now. I'm sending you a key in a sec.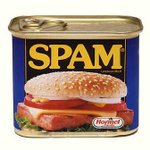 Spam. Sliced Processed Alien Meat.

Just wanted to put that out there. pic.twitter.com/CMQn5pxWrl