object404 @noCreativity Blame "killing" Flash and its replacement with the more size-hungry HTML5. Looks like 150-200kb is the new minimum Ad norm
@jayemsee @fwa Haha! We're working on something new which will be cool on a technical note but not 'plain cool' ;)
It's not pretty, it's not sexy, it's not fast but it works. Your user can access the site's core experience. M#ltr 🔒! #lt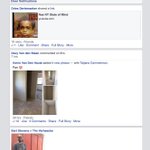 You don't *need* JS to build your basic portfolio site. Facebook has a full working mobile site that requires NO JSpic.twitter.com/OmlFHZpV6v6v
fwa @noCreativity we live by the motto that the best thing you have ever seen could be launched any second now :)
@fwa I feel like 'cool' sites (like we had 10 years ago) are becoming scarce. Cool and delightful has made way for simple and generic.
Remember when you made Flash banner ads that were limited to 15, 40 or 50KB? Looks like those days (and file sizes) are long forgotten.
You know the state of the web is sad when this tweet appears. RT @fwa: Seen any cool sites this week? Please share those links!