Finally got around building my own lighting and HDR Sky rigs. I'll run some more tests with this before releasing these on my blog :)
Who of you guys knows somebody in the states that's connected to the newspapers or TV stations? We need to this #likemyride thing out there.
I'm not sure what just happened but #Cinema4D just completely emptied my .lib4d file with my custom rigs… All gone. Well, that blows.
Every time I unsubscribe from your newsletter and update-emails, you just start sending me different ones. That is actually worse than spam.
"Art is never finished. It is merely abandoned."
- Da Vinci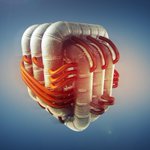 Refinite #everyday #cinema4d pic.twitter.com/sOPt85qZh5
If you're at a restaurant, unless they serve your food on Charlize Theron's naked body, eat it instead if posting photos of it on Instagram.