mikebeecham All I want is a new Thunderbolt display. Is it too much to ask?
You can only do so many attempts to fix a header using CSS.

Although my OCD is urging me to try fix it one more time…
ricbadger Looking for talented HTML5 engineers (with games experience) to help grow our portfolio of games. Multiple vacancies lnkd.in/ehc3dAH
Wow,… "Web 3.0"… Is that still a thing?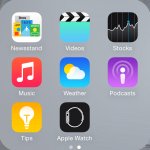 Also: Apple took 'making iOS ugly' to the next level with this brand new disgusting, horribly executed Watch icon. pic.twitter.com/J89LsHU0g3
Remember when you picked up a MacBook Air and thought to yourself: "God, I wish they could make this thinner. This is too bulky"…