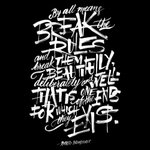 I love this! RT @netlash: Break them beautifully. pic.twitter.com/VkT6LzdEXz
Okay, let me straighten this story out:"We" are not looking for developers of any kind.*I* was just quoting an insane list of requirements..
Fuck yea! It's Monday! What are you going to achieve this week? Have a good one. 🍀 #FYIM
There were so many stories. The cars that finish are not the point. How they finished is what matters. 2015 will be brilliant. #F1
Faster hybrid cars, Ferrari is back, Sauber scored points, rookies impressed, McLaren finished, Red Bull in trouble and more! #F1
If you think the #F1 grand prix in Melbourne "collapsed" today, you don't understand what the results represent.