Did anybody actually get hold of Scott Forstall to ask his opinion on iOS7's new design philosophy?
Btw: I had just joined the game and was still watching the intro movie. #GTAonline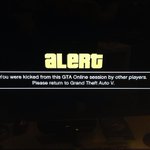 Well, if this is a sign of what's to come, then #GTAonline is going to be a huge disappointment. pic.twitter.com/Gtm5ilhQRX
Seen as GTA5 was able to crush any record so far (or server for that matter) let's see how long before this goes AWOL gta-5-map.com
Every time you delete a comment that was awaiting moderation because you don't like what people say, George Orwell kills a kitten.
@glenndavid Proximus moest wel een ipcc file maken die gebruikers moesten installeren op hun iPhone (ofzoiets) // @mobilevikingsBE
@glenndavid iPhone 5 heeft de LTE antenne hoor. Collega's van me die bij Proximus zitten hebben al LTE sinds Juli ;) //@mobilevikingsBE
Lots of work done already! Mails, set up some new servers, did some research for my next project and preparing a meeting! Man, I'm on fire!