So Apple has redesigned close to every app on iOS and Mac. And yet the Find My Friends app is full of leather. Did they forget about it?
So, is there already a company out there, building custom Mac Pro enclosures? Just imagine walking into a room with a Hello Kitty Mac Pro.
@jeroenjoosen I'm not sure what you're implying here but that still doesn't make it a less of a -pardon my French- fuck-up.
Spotify has been updates of iOS7.
I'm sorry but that's not design. That's the complete absence of design. Also known as "ugly".
@slk8500 ik zou vermoeden dat dat geen probleem mag zijn. ;)

In other news: slaapt dan echt NIEMAND in Kortrijk om 4:30?!
Okay, I love the multiscreen support in Mavericks. 2 Thunderbolt displays + 1080p extended desktop over Airplay? This is brilliant.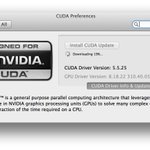 Well, that wasn't there before… Was it#maverickskpic.twitter.com/rYREOyLRgKgK
By the way, Apple's latest OS is named Mavericks. Mind the S at the end.

Mavericks = OS 10.9
Maverick = Top Gun

Just sayin'… ;)
By the way, Apple latest OS is named Mavericks. Mind the S at the end.

Mavericks = OS 10.9
Maverick = Top Gun

Just sayin'… ;)