So who of you is running Mavericks and using Adobe CC? Any troubles there?
I think the only thing I'm exited about is the possible release of the new Mac Pro. #AppleEvent
Lol :) RT @TUAW: Now playing: The Wire by HAIM … but we hate wires!?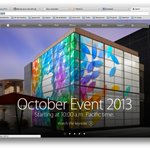 I'm guessing this is going to be pretty big. pic.twitter.com/dNE2VcQJrI
@hannes_bhc Der zijn inderdaad mensen die denken dat het Mercedes hun idee was en jij hun loopjongen bent… Beetje jammer inderdaad.